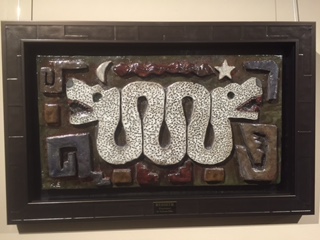 Rebirth
The Double Headed Serpent is a great reminder to all of us for the need to be humble and continue learning how to be the best we can be.
Product Description
The double headed serpent represents rebirth and could be interpreted as a new beginning, repentance, new life and the opportunity to start fresh. A wall sculpture that reminds us to be the best we can be, and there is hope of starting again.
This serpent mosaic was created in Aztec Mexico. It may have been worn or carried during religious ceremonies. Snakes were sacred to the Aztecs as they were the symbol of the feathered serpent god, Quetzalcoatl.
Additional Information
| | |
| --- | --- |
| Weight | 21 lbs |
| Dimensions | 12 x 24 x 2 in |
| Size | 12×24 Original Raku Clay – Framed |