Sale!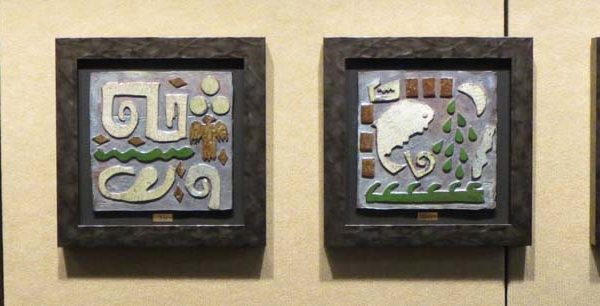 Spirit of the Earth
Each plaque depicts one part or one spirit of the earth. 4 pieces 20″ x 20″ each depicting one spirit.
Product Description
Each plaque depicts one part or one spirit of the earth. 4 pieces 20″ x 20″ each depicting one spirit.
Earth- Represents home, a solid foundation, nurturing emotions, fertility, and abundance- a time for growth and rebirth. Many stories of the earth include the stories of spirits that are intertwined in our own lives. They reside in the plants, the rocks, and the very heart of the earth. These spirits care for all that live here. We can feel their presence in the quiet moments of each day. That is not to say that the Earth Element has nothing but positive characteristics. It can be fierce. It also has its cleansing moments as do we.
Air- Represents vital breath, new life, power of the mind, and communication – from the winds of the world to the first cry of a newborn baby. It is also connected to the mind, wisdom, energy, and the soul. This element is everywhere and part of everything, yet it cannot be seen. The element of air is an excellent representation of spiritual faith. Air reminds us that there is much more to this world than what we can see, and also teaches that we must grow and change as the world does.
Fire – Represents creation, destruction, and transformation. The element of fire has a great power for forging will and determination. It is our inner light as well as a living symbol of the Divine Fire that burns in every soul. As a forest fire burns the old and prepares for the new seeds, fire consumes but not without giving back light and warmth. It shines without remorse. Fire represents a transformation that can take a situation and a life and make it unrecognizable after change occurs.
Water – Represents the subconscious, purification, and psychic powers. It is important to remember that humans are mostly water-based. Our bodies resonate with water. This element soaks us with love, and magic. Other attributes of water include compassion,  community, insight, healing and relationships. Water too has its treacherous side. It has layers and undercurrents. That teaches us to be aware of important matters about others.
Additional Information
| | |
| --- | --- |
| Weight | 32 lbs |
| Dimensions | 24 x 24 x 24 in |
| Size | 4 piece set 20″x20″ each. Framed Plaques Original Wall Sculpture |